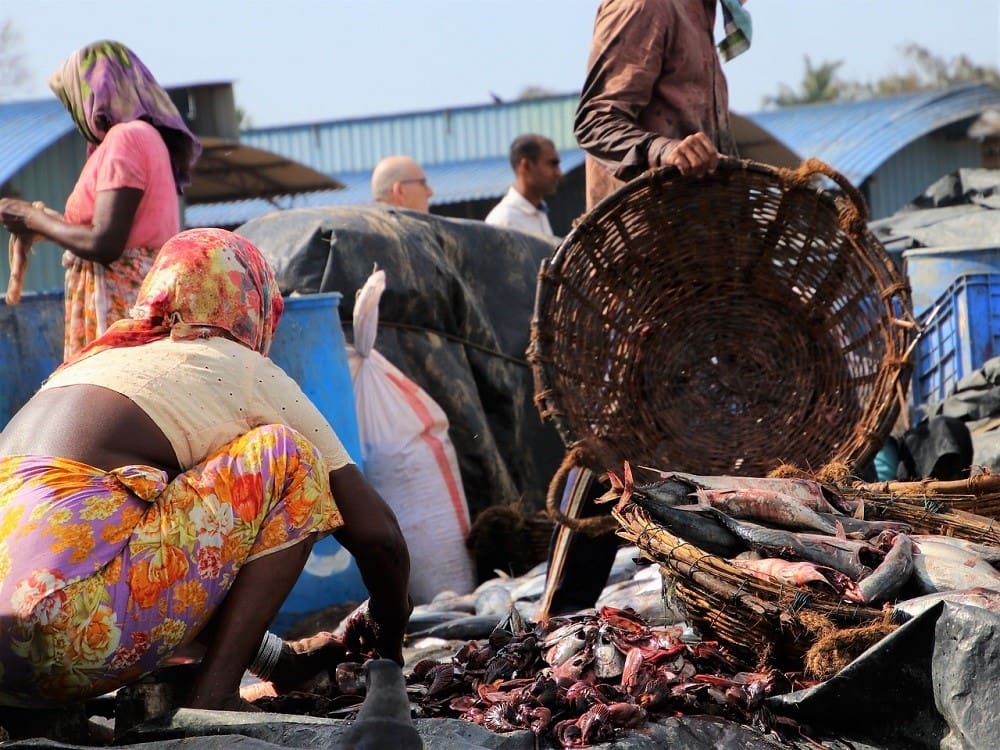 Image: A woman prepares her fish to sell in Africa. ©Pixabay
29/04/21
News Update
Script 'graduates' share the headlines in first SciDev.Net journalism awards
Speed read
The awards recognise the work of SciDev.Net's journalists around the world
Two graduates of Script – the free training and networking resource for journalists, scientists and anyone who wants to communicate science in an engaging and accurate way – have shared the headlines in the first SciDev.Net journalism awards.
Syriacus Buguzi, from Tanzania, was runner-up in the 'best news article' category after writing a story about a 'new malaria-carrying mosquito threatening mass outbreaks in Africa' in collaboration with SciDev.Net deputy editor, features, Fiona Broom.
Mr Buguzi said, "I think this recognition is a great impetus to the efforts that my colleagues and I have been investing in advancing science communication as part of our careers, in our countries and Africa in general. 
"Despite being devastating to the world, the COVID-19 pandemic has opened our eyes to realise why we need high quality science communication. It's an antidote to the bad infodemic about the pandemic. I feel motivated by this award to excel further in this field."
Meanwhile, Kenyan Gilbert Nakweya teamed-up with Ghislaine Deudjui and Julien Chongwang to write an article concerning 'poison being used to preserve food in Africa' which scooped top honours in the multimedia category.
Mr Nakweya said, "This award motivates me to ensure excellent reporting in science journalism. It's special to me being my first recognition of this kind. My colleagues and I will keep doing the most noble job of writing research-based stories that could help transform livelihoods especially in the global South."
Both journalists have completed courses from Script – made possible by funding from the Robert Bosch Stiftung and implemented by SciDev.Net – that included 'Science communication skills for journalists' presented by SciDev.Net Training Coordinator Dr Charles Wendo.
Syriacus is currently studying a master's degree in science communication at the University of Sheffield on a Chevening Scholarship, while Gilbert is also studying for a master's degree – though specialising in development communication – at the University of Nairobi, Kenya.
Both journalists are contributors to SciDev.Net which is the world's leading source of reliable and authoritative news, views and analysis about science and technology for global development.
The SciDev.Net journalism awards were launched last year to recognise the work of SciDev.Net's journalists around the world and the impact their stories have made amid a very challenging climate exacerbated by the COVID-19 pandemic.
Of the standard of entries, managing editor of SciDev.Net Ben Deighton said, "The high quality of these articles is a great testament to the work we are doing at SciDev.Net."
The winners of the awards were picked by SciDev.Net's Editorial Advisory Group, based on a shortlist drawn up by SciDev.Net editors, and included journalists from around the world.
Winner of the best news article went to Zoraida Portillo for her story 'Robots help learning in a time of COVID', about the use of robots to teach children in remote parts of Peru during the COVID-19 lockdown.
Script also offers an appropriate and related course 'Reporting the science of COVID-19' which is also delivered by Dr Wendo.
Winners of the best feature category, and the overall winner, was UK-based journalist Aisling Irwin for her SciDev.Net Investigates story – 'Global tree pledge frenzy threatens ancient grasslands' – on the adverse impacts of poorly planned tree planting campaigns.
Runner-up in the features category was Sanjeet Bagcchi, from India, for his article 'Asia Pacific's runaway white elephant projects,' about exorbitant Asian infrastructure projects that have failed to bear fruit.
Hazem Badr, of Egypt, received the prize for the best interview with his 'Q&A with a member of the Oxford vaccine team,' creators of the COVID-19 vaccine, in July 2020. The interview, conducted via the videoconferencing platform Zoom, was published on SciDev.Net's Arabic language edition.
Badr was also runner-up in the multimedia category for his photo story, 'Egypt's shrimp women.'
Mr Deighton added, "Congratulations to all winners, runners-up and shortlisted entries, and many thanks to all of those who helped put together these awards."