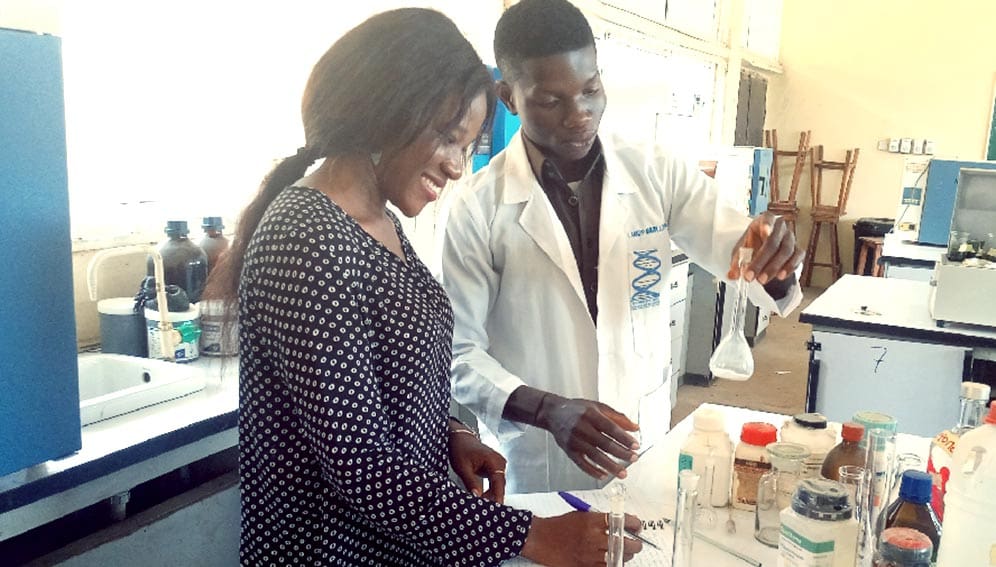 Image: Stella Lohnap interviewing a science student at Nasarawa State University, Keffi in Nigeria.
26/09/19
Blog
I want to tell amazing science stories
Speed read
All around us we see how much easier life has become due to science
People have the right to be made aware of scientific developments
Science journalism is being transformed through training and mentorship
I first heard about this amazing concept called "science journalism" during my third year as a student of Mass Communication at Nasarawa State University, Nigeria. The idea of being able to simplify science stories and make them interesting instantly became attractive to me. I began to envision more people becoming interested in science because I made the stories simpler and more interesting.
Science permeates every aspect of the world. When we look around us, we see how much easier life has become as a result of breakthroughs in science. We see new developments in science, technology and innovations. People have the right to be made aware of the impact of such developments in their societies and on their future.
As a young and aspiring journalist, I saw an opportunity to bring my audiences up to speed on the latest scientific developments irrespective of their educational, career or occupational backgrounds. I saw an opportunity to tell them captivating science stories.
As we received a lecture from the SciDev.Net training coordinator, Dr. Charles Wendo when he visited our university in 2018, I remember telling myself "This is interesting!". His science story about giving contraceptives to apes to help control their population in a zoo and how he was able to report it in a fun and simple manner captivated me. It made me realize that with added knowledge I will be able to identify stories where other journalists see none.
Since then my interest in science journalism continued to grow with every lecture I received. I decided I would not be restricted to the most dominant topics covered in the media such as politics, economics and social events.
Furthermore, the fact that the same criteria that applies to journalism reportage also applies to science news encouraged me. News values such as human interest, timeliness, relevance, proximity, oddity, prominence, impact, controversy, credibility and newness apply to both general and scientific news. Thus science news could easily be incorporated into journalism reportage.
In my fourth year I came across the Script Science Communication Skills for Journalists course. It is an online course that teaches journalists how to simplify scientific stories and make them interesting while still representing science correctly, among other things. The course was broken down into modules and made easy with exercises at the end of each module. Through the Script course, I learned the importance of humanising science stories, writing on trending topics that will appeal to people's most pressing needs, problems and aspirations and generating amazing facts through intense research. I also learned that jargon can be replaced by everyday vocabulary to enable a layperson understand science stories. Also, I learnt how to structure my science stories.
---
You might also like
---
Summarily, the Script course taught me that science stories can be made more understandable, fun and interesting for everyone.
I have been selected for a mentorship programme with Radio Nigeria which is the largest national radio network in my country and I am very excited.
I believe the mentorship programme will help me develop my science journalism skills and polish my writing skills. I really look forward to working with my mentor and putting into practice all the knowledge I have been able to gather from the Script course. This mentorship programme will play a huge role in training more science journalists. I see the world of science journalism and journalistic reporting being transformed for the better through it.
Stella Lohnap is a recent graduate of Mass Communication from Nasarawa State University, Nigeria