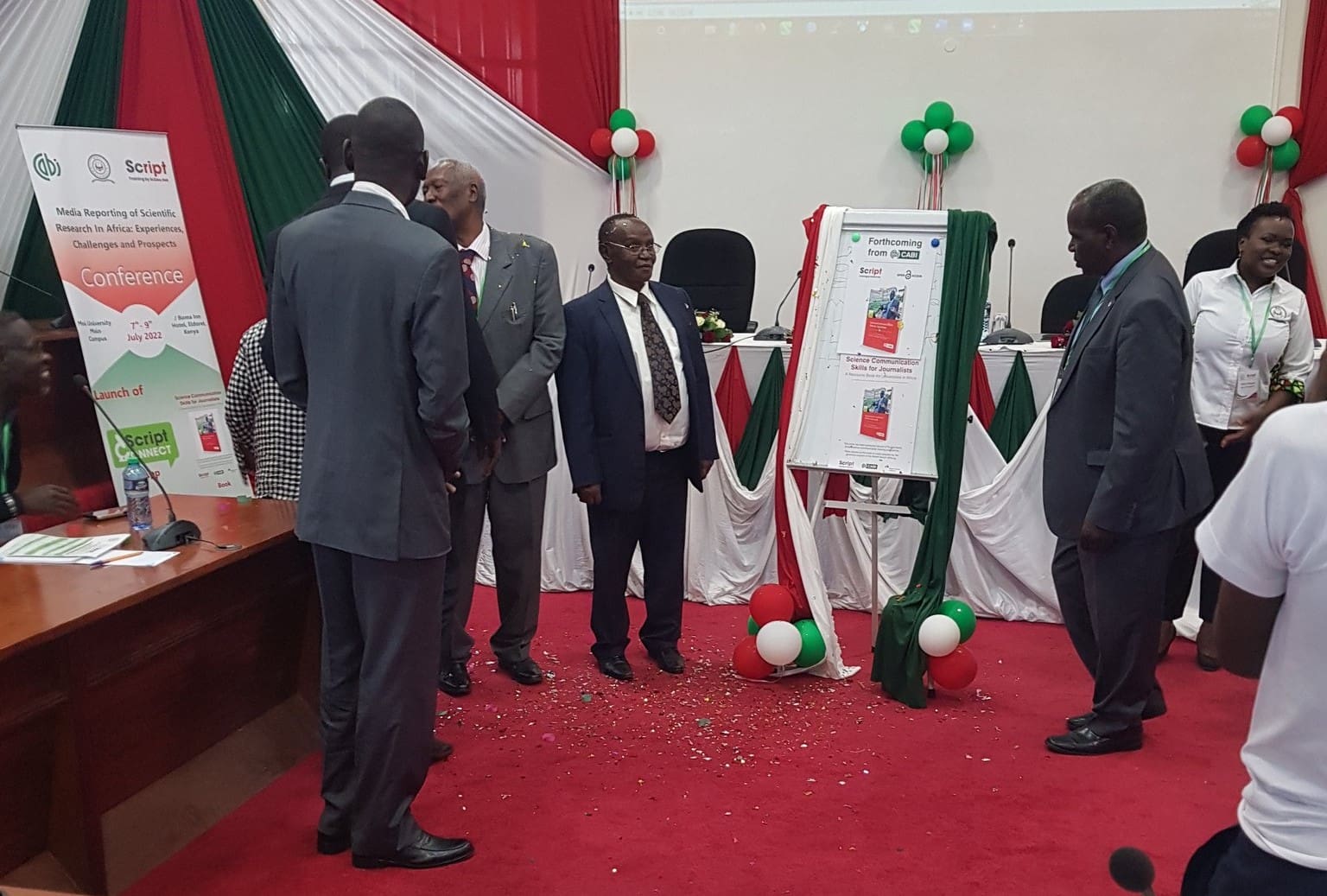 Image: Prof Isaac Kimengi (Deputy Vice Chancellor, Moi University) Dr Abraham Mulwo (Dean, School of Information Sciences, Moi University) and Dr Charles Wendo (Scidev.Net Training Coordinator) launching the science communication book at the Science Journalism Conference in Kenya. Image ©Beth Waweru
11/07/22
News Update
New book launched to help bridge science communication gap in Africa
Speed read
The science communication book will soon be available on the CABI bookshop.
A new science communication book, published by CABI, has been launched at a Science Journalism Conference organised by Moi University. The book is entitled Science Communication Skills for Journalists: A Resource Book for Universities in Africa.
Professor Isaac Kimengi, Deputy Vice-Chancellor for Academics, Research and Extension at Kenya's Moi University, cut the ribbon to launch the book at the conference on 7 July, 2022.
The science communication book is edited by Dr Charles Wendo, Training Coordinator for SciDev.Net. It has 22 chapters of engaging content. Part 1 lays down the theoretical foundation of science communication. Part 2 has 16 chapters of hands-on advice about science journalism. It includes practical guidance, examples, learning activities, and discussion questions.
Launching the science communication book at the conference
At the conference, the university's Vice-Chancellor was represented by Moi University Deputy Vice-Chancellor Professor Isaac Kosgey, who talked about the science communication book. He emphasized the need to package scientific information into digestible stories. This includes information that the public can easily understand and relate to. Universities have an important role to play. They must produce journalists who can effectively report on science that matters to society. Equally, they must produce journalists who can question inappropriate claims and practices.
"The cardinal role of science journalism is not only to explain the results of scientific studies to a general audience but to also help distinguish between well-supported and weak conclusions and examine possible conflicts of interest on the part of the scientists. It is not going to be easy to sort out the large amount of scientific knowledge coming onward, but as Neil Armstrong said, 'one small step for man, one giant leap for mankind'," he said.
Dr Abraham Kiprop Mulwo, Dean of the School of Information Sciences at Moi University contributed to the book. He reviews the current status and future of science journalism and communication in Africa. In chapter three, he outlines current challenges and trends faced by science journalists in Africa. He also talks about "specific adaptations of communication to specific audiences with differing circumstances."
How the science communication book will help users
Joseph Olomy, a PhD candidate in communication studies at Moi University said the science communication book will make his work easier. Olomy has been teaching science journalism classes.
He said, "This book will give science journalism trainers authoritative and interactive material that has been developed by African experts". Olomy's PhD research is in science communication.
Samuel Musungu Muturi is a third-year student of journalism and media studies at Moi University. He said science journalism training and the book would increase the relevance of journalists.
"This book is part of a training that will enable us to claim our position as journalists who are vital in the science communication process, bridging the gap between scientists, the public, and policymakers," he said.
Media Reporting of Scientific Research in Africa Conference
The three-day conference focused on Media Reporting of Scientific Research in Africa: Experiences, Challenges and Prospects. Dr Wendo discussed a paper on reporting science in a local language. He chaired a session on the ethical reporting of science. He also joined Dr Mulwo and other experts on a panel to discuss introducing science communication into a university curriculum.
Further contributors to the science communication book include Dr Aisha Sembatya Nakiwala (Makerere University), Dr Darius Mukiza (University of Dar es Salaam), Dr Samuel George Okech (Makerere University), and Dr William Tayeebwa (Makerere University).
The open access book will be available online soon
The book is being published as part of SciDev.Net's Script science communication training programme. Script was funded by the Robert Bosch Stiftung. This is a free training and networking resource. It is aimed at journalists, scientists and anyone who wants to communicate science in an engaging and accurate way. The programme was launched in 2018 to bridge the gap in science communication in Sub-Saharan Africa.
Science Communication Skills for Journalists: A Resource Book for Universities in Africa will soon be available on the CABI bookshop. Electronic copies will be available free of charge, courtesy of Robert Bosch Stiftung (Robert Bosch Foundation).
To pre-order Science Communication Skills for Journalists: A Resource Book for Universities in Africa, contact:
Marston Book Services Ltd, 160 Eastern Avenue, Milton Park, Abingdon, OX14 4SB, UK
T: +44 (0)1235 465577
E: direct.orders@marston.co.uk
---
You might also like
---