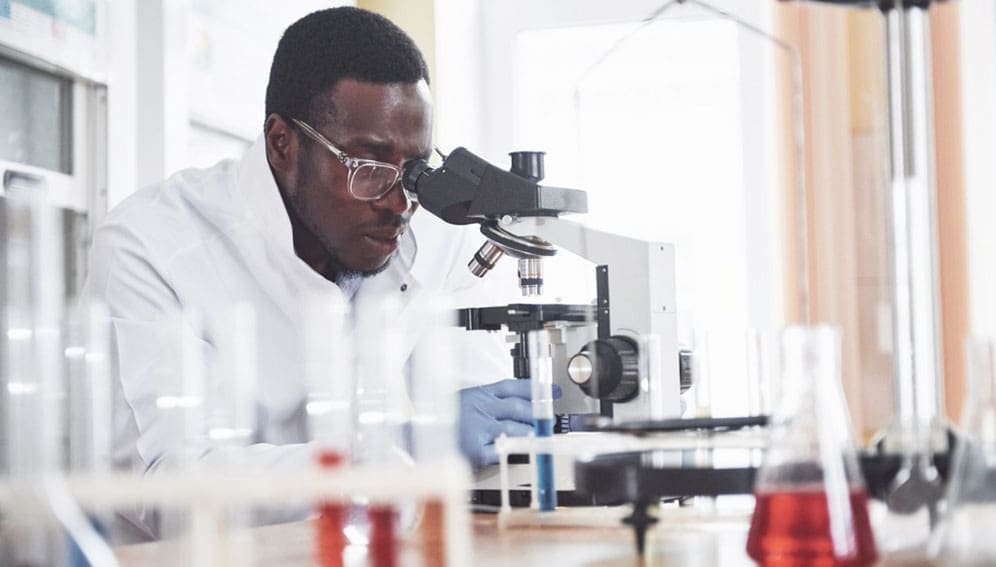 Image: A scientist works with a microscope in a laboratory conducting research.
18/06/19
News Update
African scientists get a boost with Script and The Conversation Africa competition
Script is giving course graduates who have an article published with The Conversation Africa the chance to win an exclusive mentoring experience at the publication's office in Nairobi.
The competition, which will fund one winner's flights, accommodation and subsistence up to a value of €1,000. It is open to scientists who have completed the Script 'Media Skills for Scientists' online course, and get their story published by The Conversation Africa before 31 August 2019.
In line with The Conversation Africa's editorial policy, applicants must either be currently employed as an academic or post-doc researcher with a university or approved research institution or be PhD candidates who have completed their research. The winner will be chosen by a panel who will judge the published articles on their topicality and general interest to non-specialist audiences.
The competition is one of the incentives offered by the Script project and its partners to encourage African scientists to share their research with the media and wider audiences. According to a recent opinion piece published on SciDev.Net, African scientists can benefit from disseminating their findings to key audiences beyond journals. And not only that, this can also facilitate the use of research results by industries which could also encourage other scientists to build on the already published research.
The competition
To be in with a chance of winning scientists must complete the competition application form on the last page of the Script 'Media Skills for Scientists' course, and then successfully pitch and have their story published by The Conversation Africa. The winning scientist, who will be contacted by the end of September 2019, will receive a two-day mentoring experience in The Conversation Africa's newsroom in Nairobi.
Charles Wendo, SciDev.Net training coordinator, said: "This is a very good opportunity for African scientists. The Conversation is a great platform for African scientists to communicate their research to the public that could help provide solutions to some of the challenges in their communities. We're grateful to The Conversation for partnering with Script and SciDev.Net to deliver this unique opportunity."
Alex Storey, General Manager at The Conversation Africa, commented: "This competition is a great chance for scientists to see behind-the-scenes at The Conversation Africa's newsroom and have an insight into our processes from pitch to publication. We hope it will encourage Script graduates to pitch their story ideas to us, and we're excited to collaborate with the Script team on this initiative."
Script aims to increase the quantity and quality of science-related stories in Africa by providing skills and opportunities to scientists and journalists. The programme is funded by the Robert Bosch Stiftung and implemented by SciDev.Net.
The Conversation Africa is a news and analysis website that was launched in 2015. It is an independent, non-profit source of news and views from the academic and research community, delivered direct to the public, and attracts over 300,000 unique users to its site every month.
About SciDev.Net
SciDev.Net is the world's leading source of reliable and authoritative news, views and analysis about science and technology for global development. SciDev.Net is part of CAB International (CABI) – a not-for-profit organisation that improves people's lives worldwide by providing information and applying scientific expertise to solve problems in agriculture and the environment. SciDev.Net operates editorially independently from CABI with its content overseen by an independent Editorial Advisory Committee whose role is to ensure our editorial independence protocol is adhered to. The protocol is available on request.